The August Wi-Fi Smart Lock has a new smaller design with Wi-Fi built in, improving on an already great smart lock
Smaller than before, Wi-Fi built in – what an improvement on an already great device.
Smart locks are becoming a must-have part of our tech-savvy lifestyles. This is a Wi-Fi or Bluetooth-enabled smart home gadget that locks and unlocks your door with simple commands. While there are a lot of smart locks on the market, the August Smart Lock Pro continues to be a stand-out product in this industry.
Because a smart lock is a part of your home safety strategy, it's important to fully understand your purchase. While 57% of Americans agree that having a smart device in their home saves them time, you should be mindful of which devices you choose.
With all of that in mind, let's take a closer look at the August Smart Lock Pro. I
n this August Smart Lock review, we'll explore all of the different aspects of this smart home gadget to determine if it's right for your space.
But first – quick overview:
| Pros | Cons |
| --- | --- |
| Smaller size | Keypad sold separately |
| Wi-Fi built in | Shorter battery life |
| Easy to use | |
| Works with Google, Alexa and Siri | |
| Automatic Lock and Unlock | |
Smart Lock For 2021
In this day and age, basic features are no longer enough. How does the August Smart Lock Pro relate to today's tech expectations, and what new features does it offer compared to older models?
Essentially, the August Smart Lock Pro makes it incredibly convenient and secure to get in and out of your home. Not only can you get full control over your smart lock gadget with your smartphone or Apple Watch, but you can lock your door from anywhere. However, there are still some things you need to know about this smart home lock to see how it stacks up.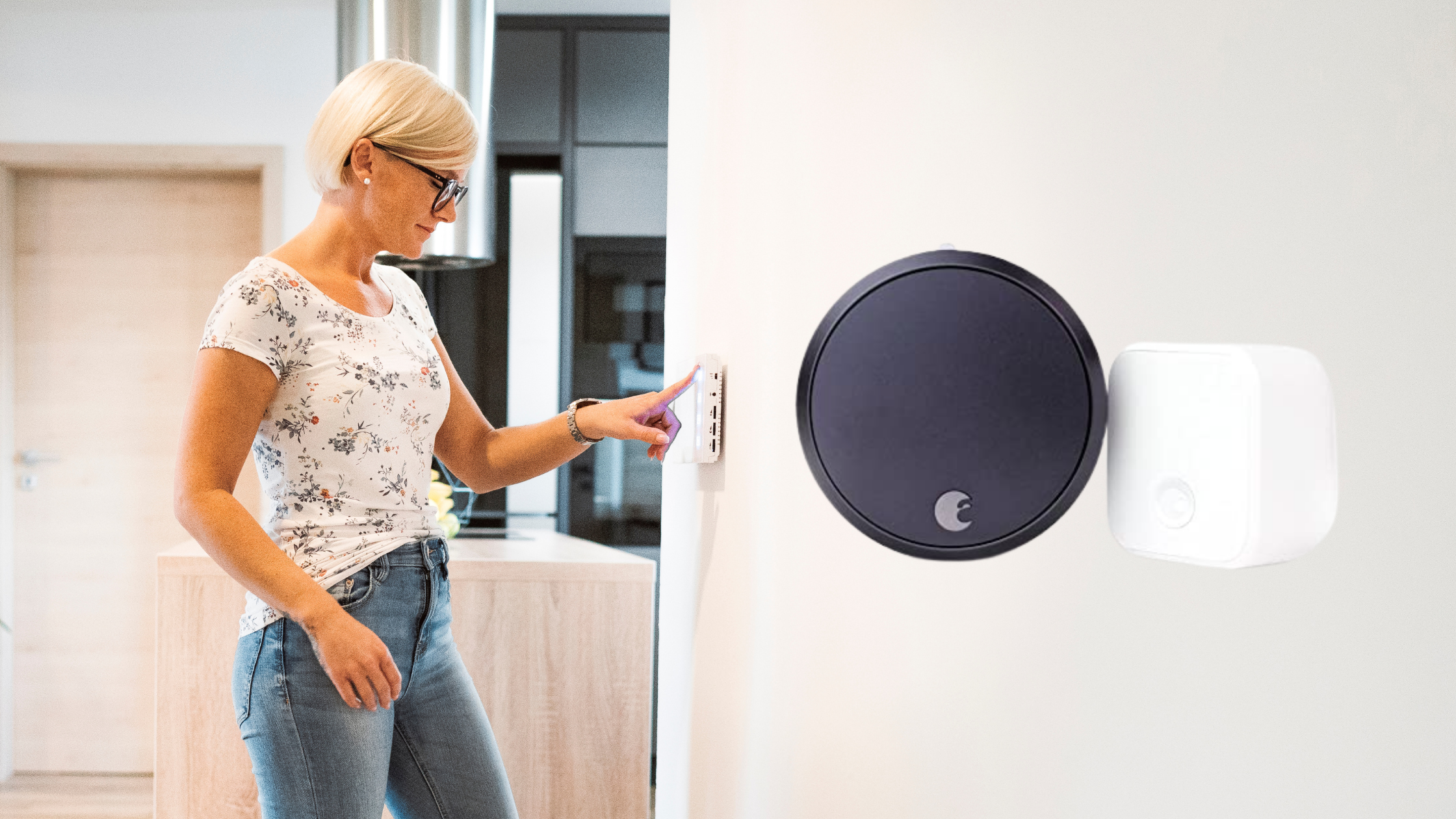 Features and performance
Next, let's take a closer look at some of the key features of the August Smart Lock Pro. While it has many of the expected functions of a smart home lock, there are added features that make this a more competitive choice.
Auto-lock and unlock: Enable your August Smart Lock Pro to automatically lock when you leave (either immediately or up to 30 minutes after). With auto-unlock, the device senses when you arrive home and opens the lock.
Smartphone integration: Use the August app to turn your smartphone or Apple watch into your door key with a simple tap.
Remote access: Control your door from anywhere, and check the status from the August app.
Guest keys: Grant guest access for minutes, hours, days, or so on. This can be enabled on a single or recurring basis.
Voice speaker: With the additional purchase of the Wi-Fi Bridge, you can use voice activation to control your smart lock.
DoorSense™: With the DoorSense™ technology, get a notification when your door is opened or closed.
Notifications: Receive alerts when specific people, like your kids, arrive home, or if there has been unusual activity.
Two-Factor authentication: Enable two-factor authentication to protect your home's data and security.
Biometric access: Use your phone's fingerprint or facial recognition tool for unlocking your door.
Compared to other smart home locks on the market, the August Smart Lock Pro offers some of the most competitive features and integrations. With installation taking less than 10 minutes, this is one of the leading smart locks available today.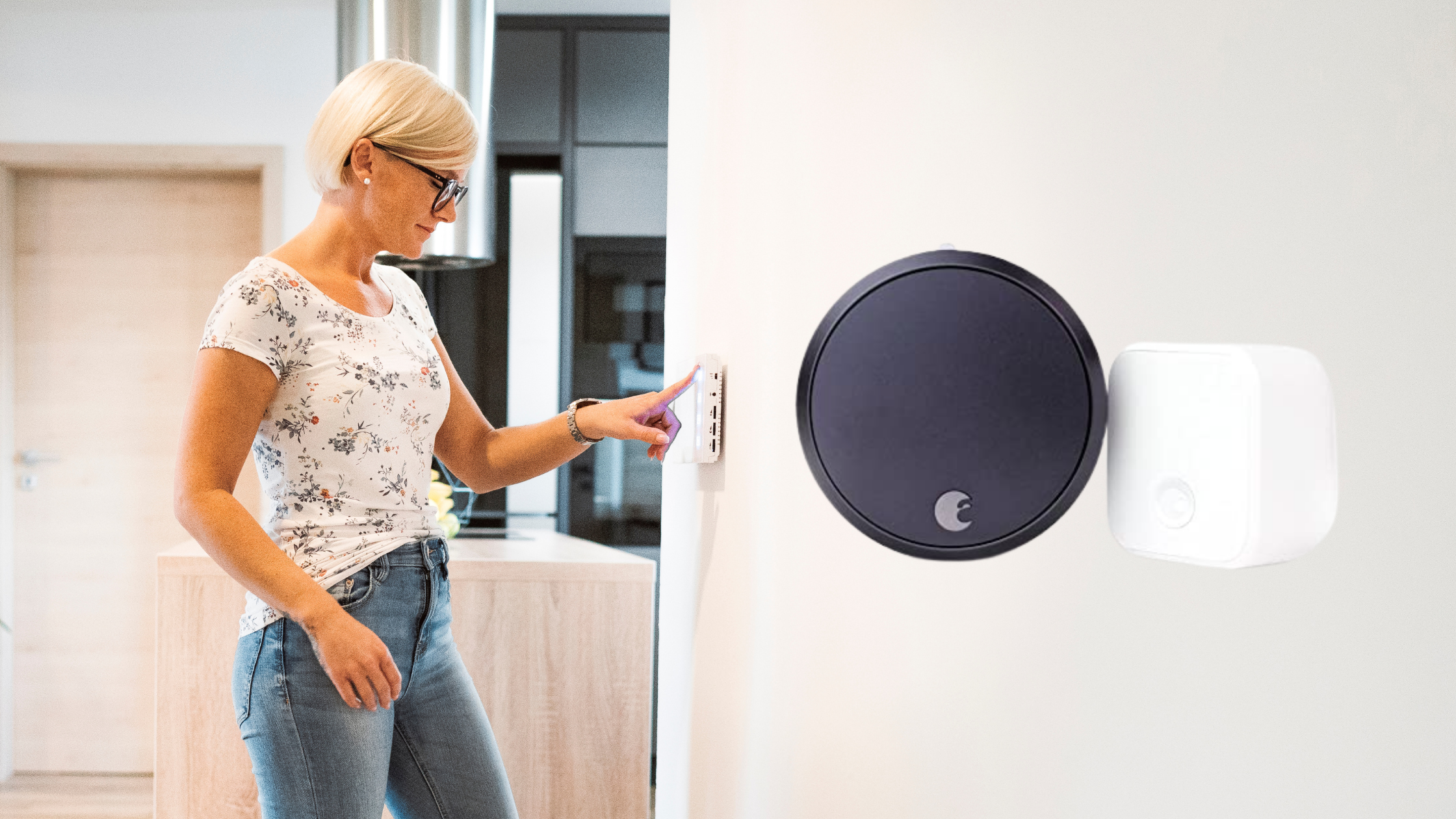 August Smart Lock Pro Specifications
| | |
| --- | --- |
| Size: | 3 inches (diameter), 1.75 inches (depth) |
| Wireless: | 2.4GHz Wi-Fi |
| Works with: | Amazon Alexa, Apple HomeKit, Google Assistant, IFTTT |
| Release date: | May 2020 |
| App: | Mobile |
| Notifications | Email, Push |
| Geofencing/Location Services | Yes |
| Guest Access | Yes |
| Touchpad | No |
| Voice Activation | Yes |
| Auto-unlock: | Yes |
| Tamper Alarm | No |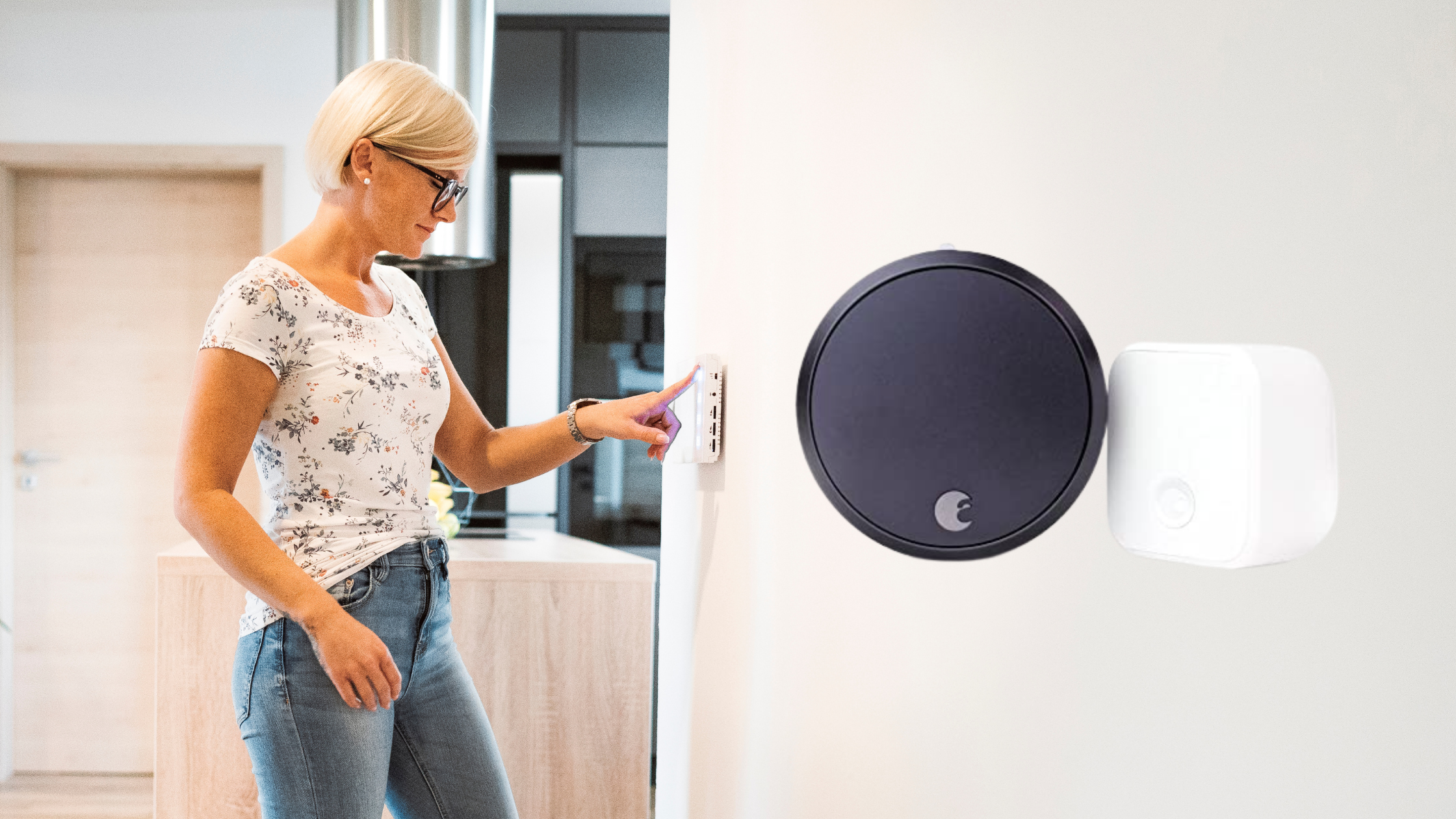 Requirements
One of the biggest challenges when choosing a smart lock is making sure it's compatible. Whether you currently have a smart home system or a deadbolt lock, you need to compare your existing situation to determine if the August Smart Lock Pro fits.
Deadbolt: The August Smart Lock Pro fits almost all single-cylinder deadbolt locks. Review their compatibility list to determine if your current door is a fit.
Phone: The August app is compatible with both iOS or Android smartphones.
Wi-Fi: You must purchase the Connect Wi-Fi Bridge if you wish to connect your smart lock with your home's Wi-Fi network. This requires a 2.4GHz Wi-Fi network connection.
Smart home: The August Smart Lock Pro connects with existing smart home partners like Alexa, Google Assistant, and Siri.
Before you purchase this smart lock device, be sure to check your current smart home specifications. Compatibility is the number one reason for challenges during installation.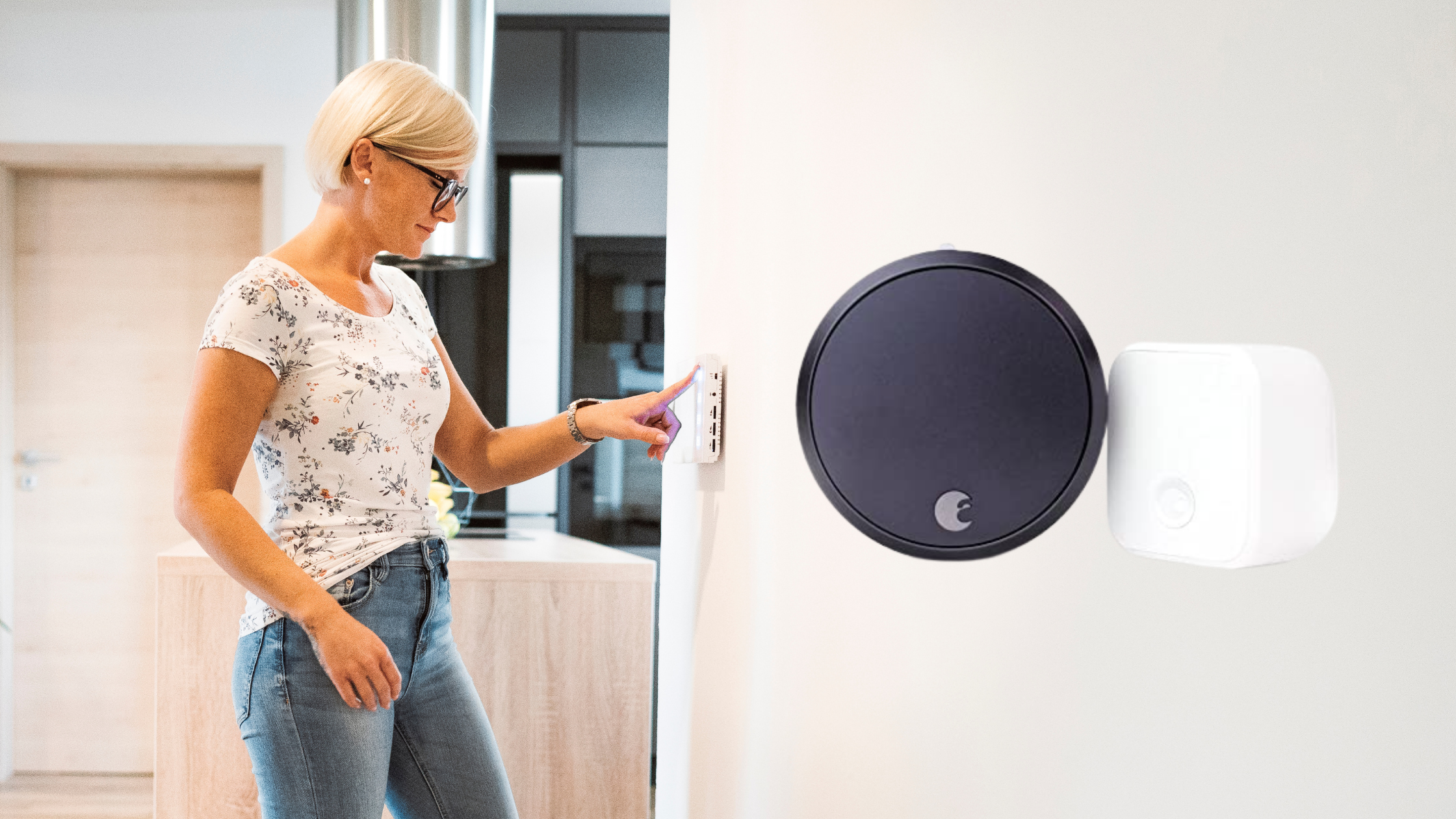 August Smart Lock models compared
Size
Wi-Fi
Z-Wave
Google
Alexa
HomeKit
August
Smart
Lock
2.7 W x
4.8 H x
2.1 D
Requires
August
Connect
No
Yes
Yes
No
August
Smart
Lock
Pro
3.4 W x
2.2 D
Requires
August
Connect
Yes
Yes
Yes
Yes
August
Wi-Fi
Smart
Lock
2.83 W x
1.81 D
Built-in
No
Yes
Yes
Yes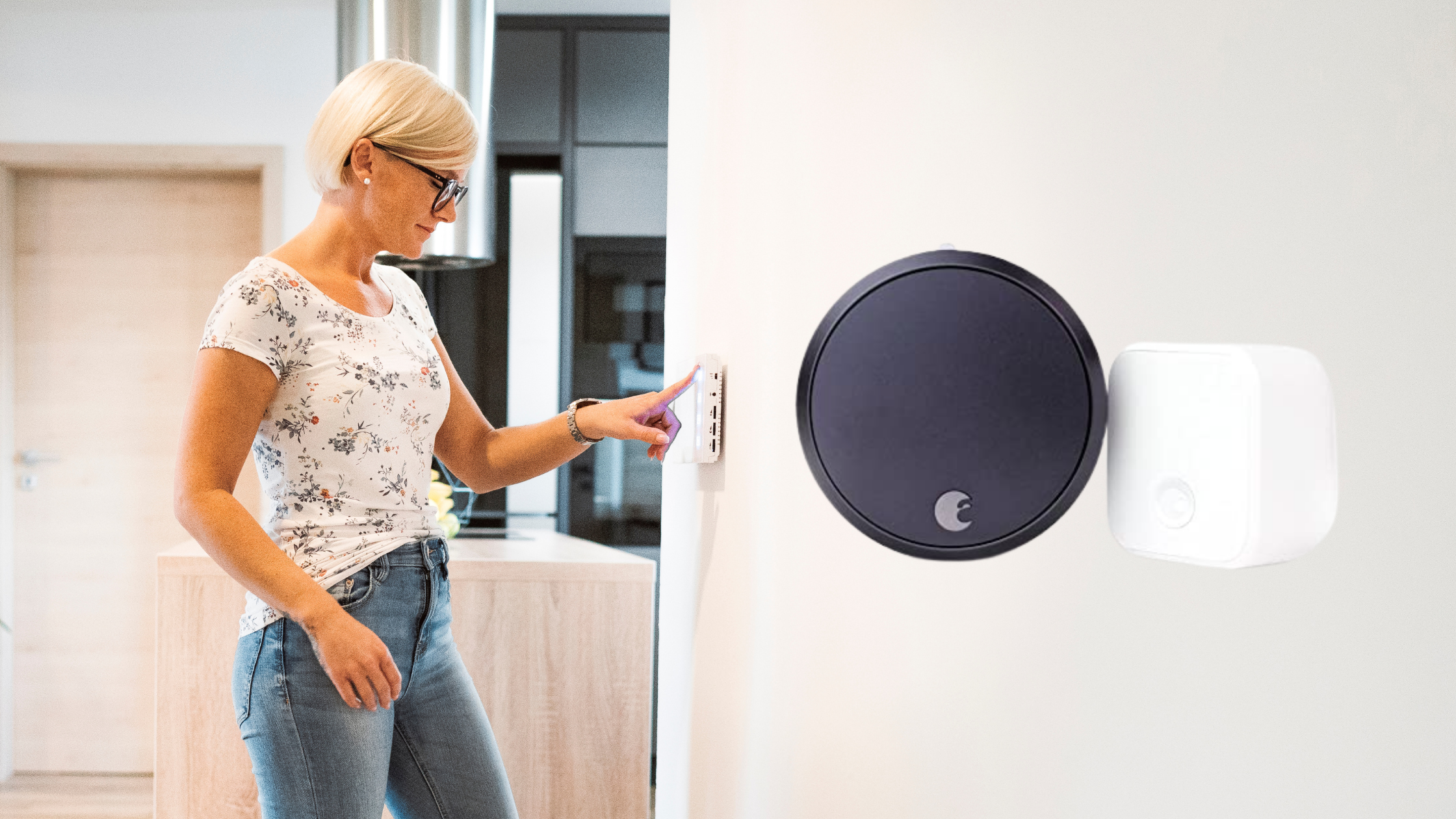 What is the difference between August Smart Lock and Smart Lock Pro?
There is a simple answer to this – one is a simple smart lock (cheaper) and the other is a high functional integration solution (and more costly).
The answer which one is which is easy to guess.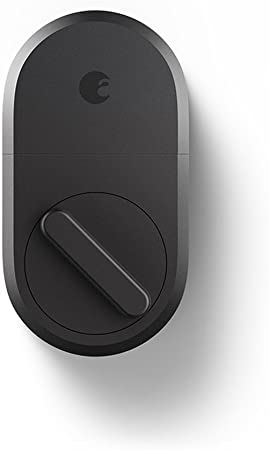 The August Smart Lock is one of the cheaper smart locks out there that still provides value. It lacks quite a few features unless you get an August connect to go with it, and even then, it still doesn't play nicely with Apple's HomeKit.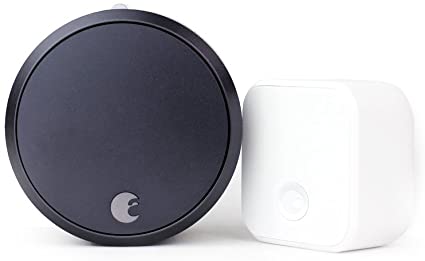 The August Smart Lock Pro comes with absolutely everything you need and could want in a smart lock. With support for Google, HomeKit, and Amazon, and the inclusion of the connect makes the Smart Lock Pro easy to use; however, you may want. All the functionality does come with a price tag that can shock the wallet.
As you can see, it's not just the look and feel of these locks that separate them. The cheaper August Smart Lock doesn't have all the same smart home integrations as the pricier Pro model. Even if you choose to upgrade the August Smart Lock by purchasing an August Connect, you won't have access to all the platforms supported by the Pro model.
If you're interested in adding to your HomeKit or Z-Wave-based smart home setup, your best bet is going to be the August Smart Lock Pro + Connect. If you're using an Amazon Echo, a Google Home, or want remote access to your August Smart Lock, you can save money by purchasing the August Smart Lock and August Connect.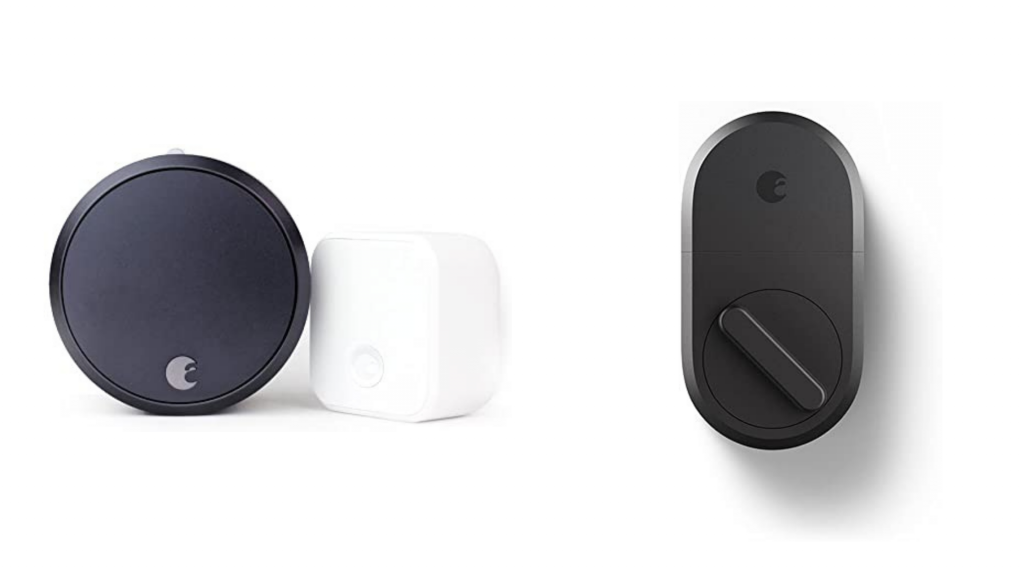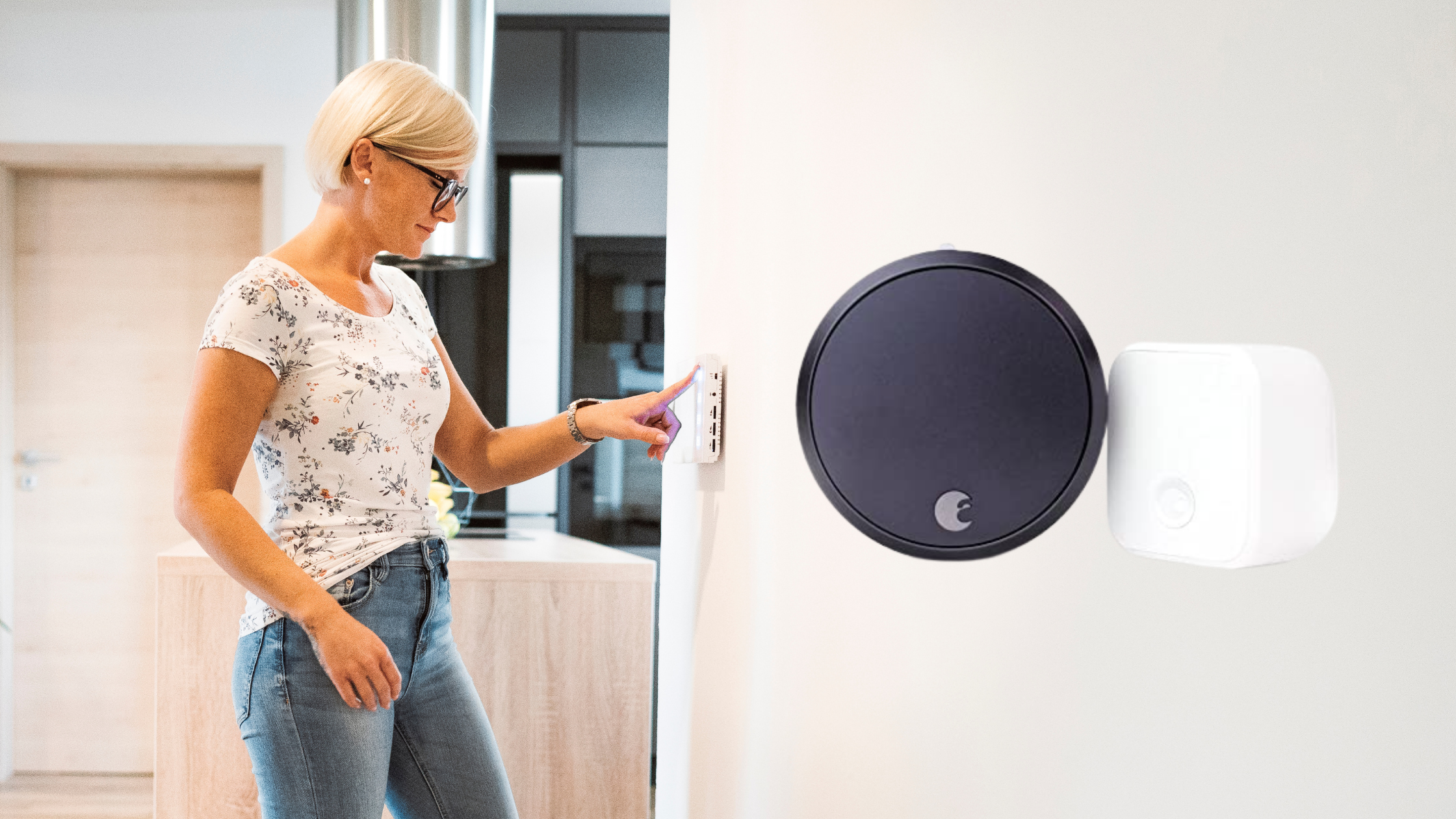 August Smart Lock Pro Installation
The August Smart Lock Pro installation is a straightforward process. If you have the proper materials, the process should only take up to 10 minutes. Compared to other smart locks, this is one of the easiest to install no matter your experience level.
What you'll need to install your smart lock:
Smart Lock Pro
Mounting plate
Adapters
Adhesive strip
Philips screwdriver
To begin, follow these steps below:
Use the stip provided to hold the key side of the lock in place while you remove the existing thumb latch.
Next, unscrew the existing thumbturn and any additional backplate. You only need a screwdriver for this step.
Once the existing thumbturn is removed, prepare your mounting plate by repositioning the two adjustable screw holes. Attach the mounting plate until it's securely against the door.
Choose the adapter you need depending on your existing deadbolt. Connect this into the tailpiece on the mounting plate.
Pull the wing latches on your Smart Lock Pro and attach them to the mounting plate. It should lie flush with the door. Remove the battery tab and make sure the batteries are sealed in the compartment. Once you replace the faceplate over the batteries, you're all set!
Download the August Home app and configure your smart lock by following the steps under "Get Started."
For more assistance installing your August Smart Lock Pro, review their step-by-step guide and video walkthrough. The August app also has helpful hints for installing your smart lock.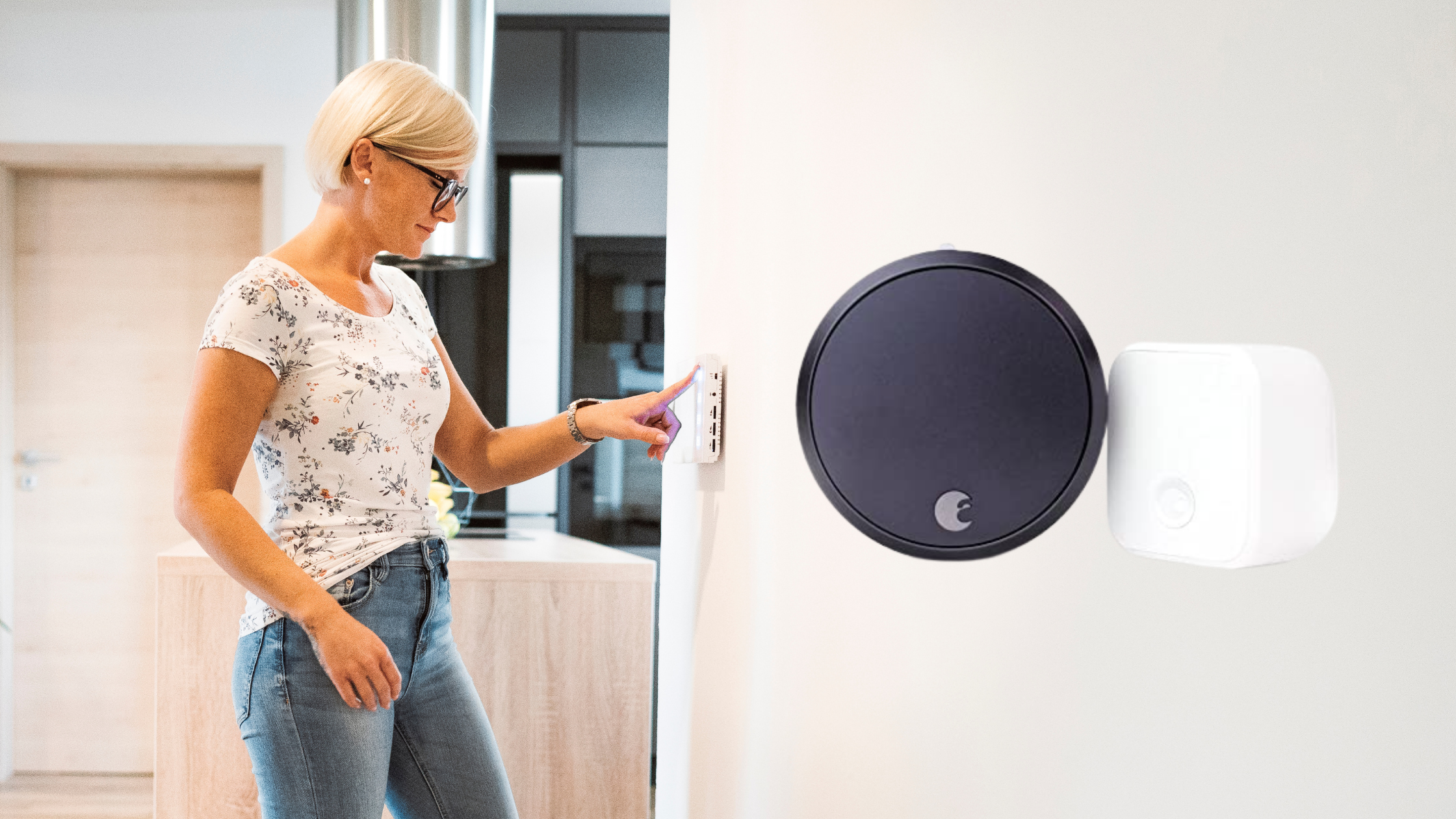 Batteries and battery Life
With all smart home devices, you need to pay close attention to the battery life. The last thing you want to worry about is your batteries failing and leaving you without access to your home.
The August Smart Lock Pro comes with 4 AA batteries that power the system. This should last up to 6 months. The battery life can be affected by many factors like installation, deadbolt friction, and your Wi-Fi signal. When the batteries are running low on your smart home device, you will receive a notification in the August app.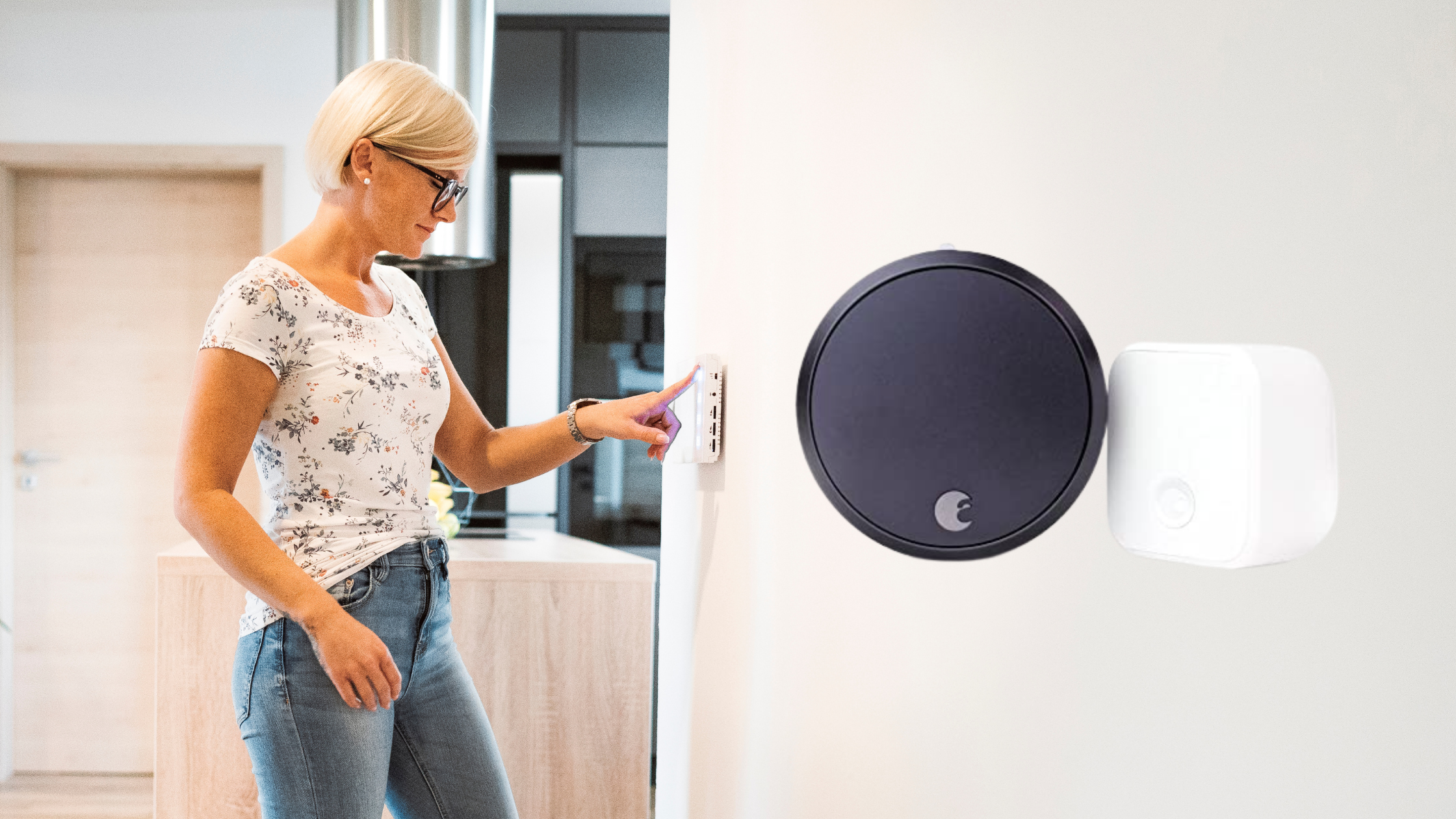 What Sets a August Smart Lock Apart From its Competitors?
There's a lot of competition in the smart lock industry, and this leads to more innovation and advancements across the board.
How does the August Smart Lock compare to competitors like Yale and Schlage?
Yale Smart Lock is one of August's biggest competitors. Yale offers high-quality digital smart locks that function similarly to the August Smart Lock. Both can be added to a pre-existing home security system, and you can also opt for a touchscreen or push-button keypad.
However, August is compatible with more smart home systems and security systems, making it a more flexible choice. While Yale's base model starts at just $130 (vs. $150 for August), the August Smart Locks are cheaper overall if you bundle add-ons.
Schlage Smart Lock is another popular alternative. Like the August locks, the Schlage Smart Locks are also compatible with high-end smart home systems like Alexa, Google, and Siri. They can both be installed at home without professional help.
The key difference between these two companies is how the locks themselves work. The August locks send you alerts to your smartphone, and they also rely on "geofencing" technology to unlock when you're nearby. Conversely, Schlange locks don't send alerts when the door is left unlocked. They simply lock after 30 seconds automatically. With inexpensive options starting at $94, the Schlage Smart Lock is a better fit for those worried about their budget.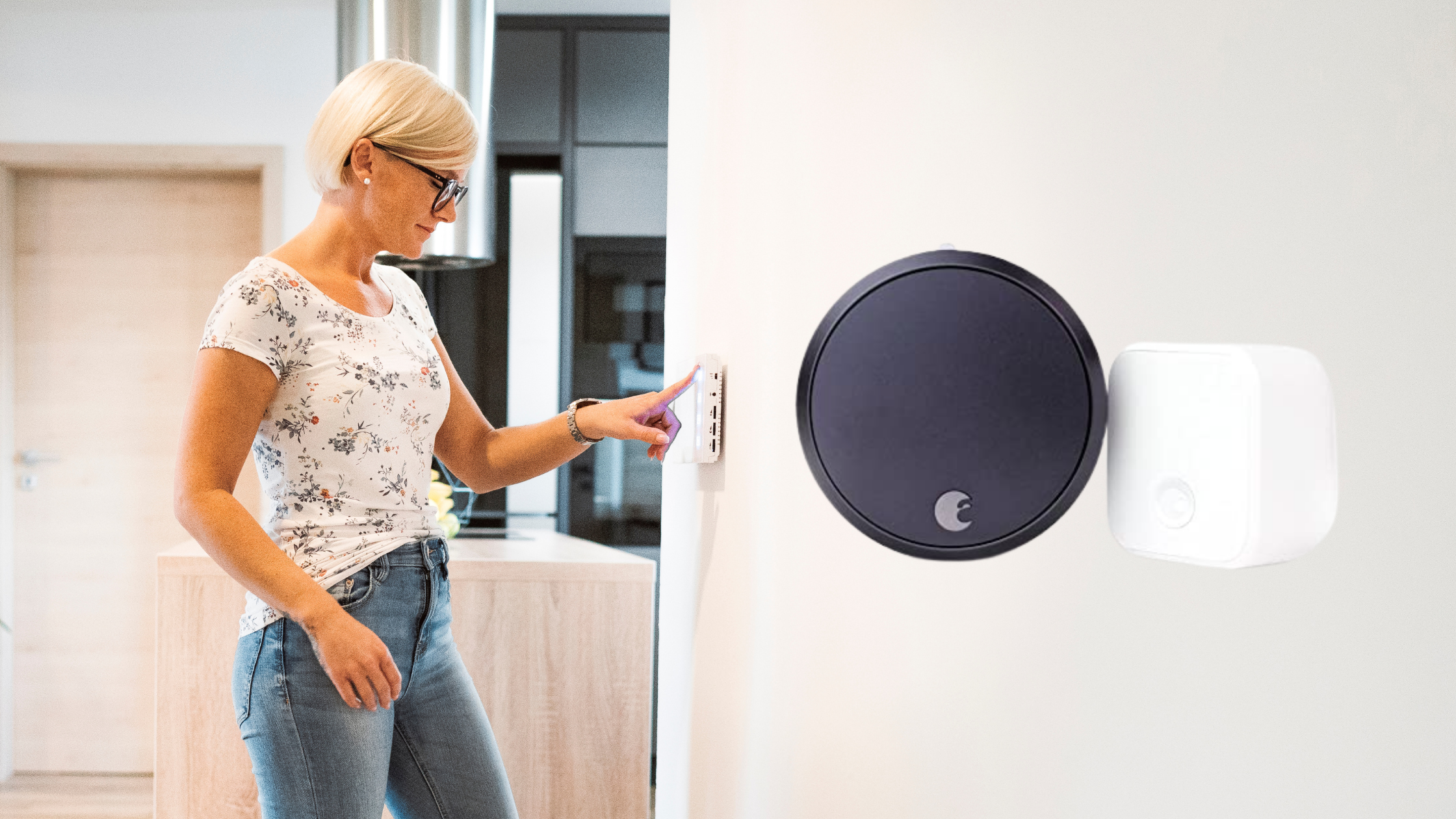 Benefits and Drawbacks
Like all smart home locks, there are different benefits and drawbacks to choosing the August Smart Lock Pro. Ultimately, this is a solid choice, but you'll need to weigh what's important for you and your home.
Benefits of August Smart Lock Pro
It's easy to install the August lock yourself, no experience needed.
The August locks easily pair with existing home networks.
Access your home's lock on the go with the mobile app.
You can keep your existing keys.
Share guest access to your home remotely.
Feel confident that your data is secure.
Drawbacks of August Smart Lock Pro
This lock isn't compatible with every deadbolt and home system.
More costly compared to other similar models of smart locks.
No keypad access on the lock.
You need an existing, fast internet connection to take advantage of all features.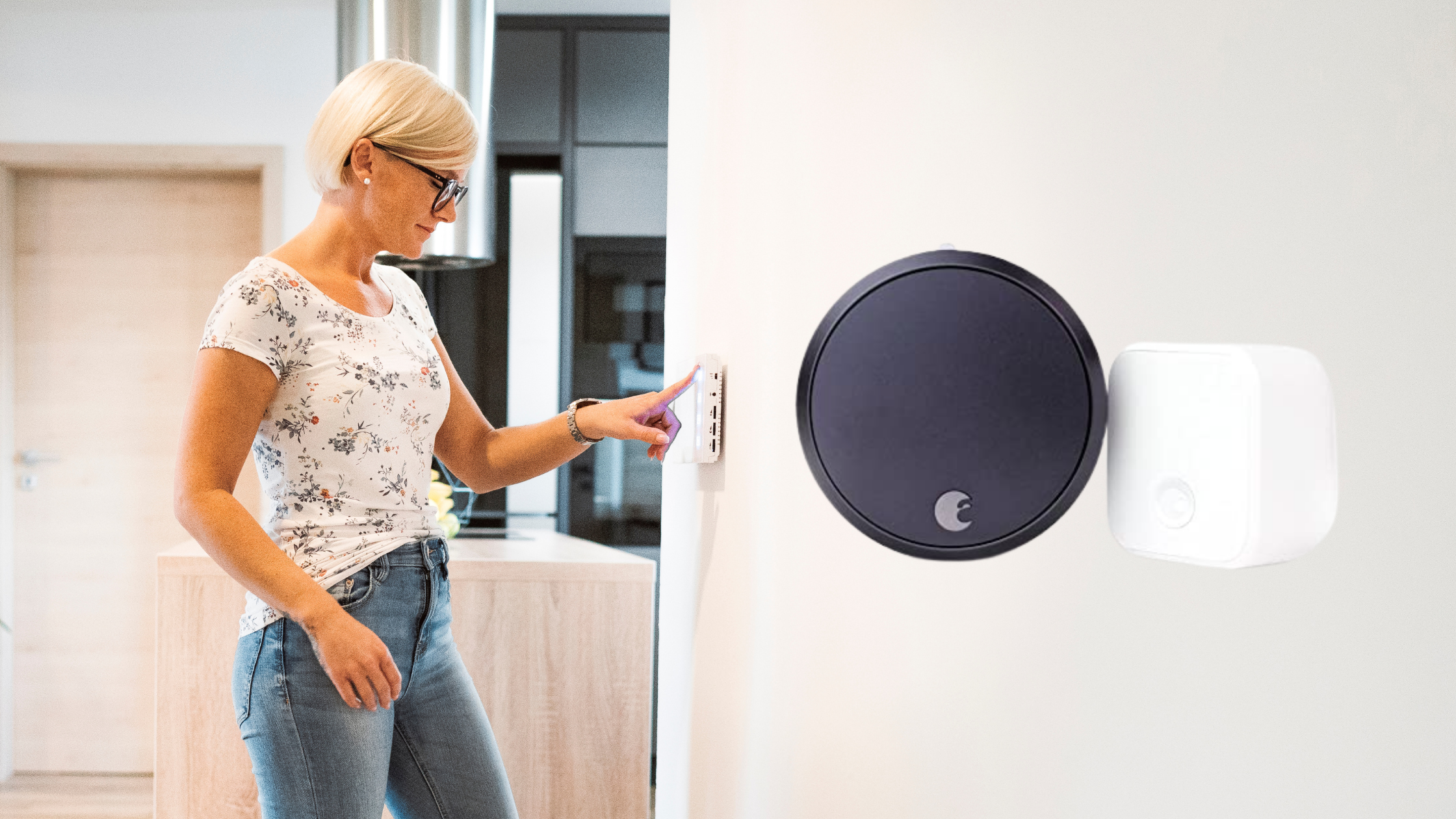 Is August Smart Lock worth it?
To summarize, the August Smart Lock Pro is a great choice for anyone interested in a new, secure way to lock their home. If you want a way to lock your home that lets you keep your existing keys and also access your home lock from anywhere, this is one of the best options on the market.
Starting at $229.99, this is one of the more costly models of smart home locks on the market. That being said, it comes with additional security and features that could be worthwhile for someone who needs to share access to their home regularly. Perfect for families and those who take security seriously, the August Smart Lock Pro is worth it for most homeowners.
Comment & Share
We can only talk about smart locks only so much, anything we've missed – feel free to ask or share.
Let's learn more about the August smart lock pro together!